Edgewrap can provide your product with:
Exceptional Strength:
The unique outerwrap process provides superior strength over conventional products enabling you to down-gauge or down-size without reducing product protection.
Optional Outerwraps:
Our outerwrap features a glossy white finish which provides enhanced product presentation, helps prevents delamination and provides a smooth edge finish.
Economical Alternative:
Because of the exceptional strength quality of EdgeWrap, it enables you to promote cost-savings to your customers.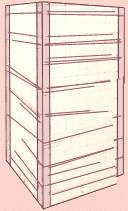 EdgeWrap helps unitize a pallet load and provide load-height stability